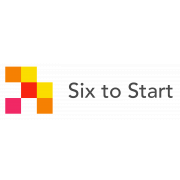 Chief of Staff / Senior Operations Manager
We're hiring a Chief of Staff to take ownership over the smooth operations and financial health of our company as we continue to grow rapidly. 
Our flagship apps - Zombies, Run! and The Walk – combine innovative real-world interaction and gameplay with captivating audio stories and design. In short, we make exercising fun with audio. 
We're looking for a detail-oriented, highly-organised, self-starting individual who's ready to take the next step. You'll be working directly with the CEO and with our parent company, OliveX, along with senior leadership across all departments, to ensure our processes, reporting and culture remain robust and scaleable into the future. You should have multiple years of experience working in a senior operations capacity, working closely with qualified accountants on business operations. 
You'll have the opportunity to represent Six to Start with our strategic partners and at industry conferences and events; to help shape the company as it grows into new areas of fitness gaming; and the potential to grow into a COO role.
This is a fully-remote, full-time position. You can be located anywhere, but must be able to overlap with at least 9am to 12pm UK time, and ideally have fluency in the UK financial and regulatory systems. 
Our pay range is £60,000 to £75,000, dependent on experience. Benefits include private Vitality Health Insurance and a fund for personal training and development.
About You
Please apply for this job if you have:
Multiple years working in a Chief of Staff, Senior Operations Manager, or COO position at a UK company.
Experience with budgeting, financial reporting, and financial projections using industry-standard practices and softwares (e.g Xero, Excel)
Experience with reviewing and negotiating contracts, and liaising with lawyers.
Experience working with accounting professionals on a day-to-day basis.
We are especially keen to hear from you if you:
Are from a community that is historically under-represented in games and media.
Are interested in building a culture of support, openness and respect through HR Policy, Company Guidance, and Social Programmes.
Have a working knowledge of UK business law, taxation, employment law and best practices.
About Us
We make content for absolutely everyone
At Six to Start we believe in everyone's right to exist and be seen. We tell diverse stories in our app with caring, idealistic characters that our players love. Here's what some of them say:
"I love this beautiful inclusive world you've created that you've allowed us to be a part of. Zombies, Run! has helped me through a lot of trying times and I don't know what I'd be doing without y'all."
"Zombies, Run is an exercise app, but its ALSO an incredible audio podcast where u are the main character. has lovable diverse cast of chars. and motivates you IRL to exercise at any pace you prefer! its literally the only thing thats ever made me exercise for fun and i love it."
Our workplace reflects this mission with our commitment to equality, inclusion and mutual support.
We are not a startup
We are an agile and rapidly growing company where everyone, regardless of seniority, is ready to get hands on with whatever needs doing. But we think "hustle" is code for overwork. From the way we plan projects onward, we do everything we can to ensure people work 40 hours a week even in release-heavy months. We also support part-time working and extra flexibility for meeting needs and challenges like caring for others, crisis, and physical or mental health.
We build better processes
We believe in creating thoughtful, sustainable processes that make our work easier, rather than relying on volume of effort to get the job done. We're committed to constant self-scouting and continual improvement as a way of ensuring as stress-free and sustainable a work life as we're able to create. 
What the job is going to be like
Primary Responsibilities
You will be working with the CEO and liaising with our team leads and parent company. As our Chief of Staff you will build on our current vision and help deliver it at scale sustainably and ethically. You will be a key member of our leadership team, building enduring culture and process that strengthens our workforce, revenue and operational efficiency.
You will be responsible for:
Operations

Reviewing and negotiating contracts, and liaising with in-house lawyers
Assessing and mitigating overall risk to the company
Handling non-creative communications with strategic partners
Improving internal filing, documentation, and communication processes
Reviewing our use of third-party tools, services, and contractors, including insurance

Financial Management

Handling payroll, pensions, invoice and expense processing, and monthly account reconciliation – with our accountants and bookkeeper
Assisting with company audits and filing for Video Games Tax Relief (VGTR)
Reporting financials to our parent company and strategic partners
Creating and updating financial projections and budget
Managing and approving social clubs and staff discretionary spending

HR

Maintaining company policy and staff handbook documentation
Processing new starters and leavers
Managing and approving equipment and workstation acquisitions
Managing company benefits including private health insurance
Additional Responsibilities
We believe there's always room to improve how we work, and the quality of the content we release. All members of our company regularly:
Consult on existing processes and how they can be improved
Take part in discussions about representation and equality in our content
Engage in ongoing work to improve company culture