Mid-Level Sound Designer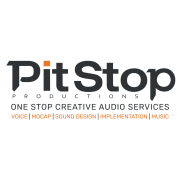 Mid-Level Sound Designer
PitStop Productions are looking for Full Time Mid-Level Sound Designers to join our 40+ audio team.
This is an ideal opportunity for someone who is thoroughly dedicated to their art, loves working with fellow audio professionals and has a desire to influence, create, and manage AAA audio in games.
Over the past 25 years, PitStop has grown its reputation and team, making us renowned for delivering reliably high-quality work.
You will be given responsibility for your own project as well as having the opportunity to creatively and technically contribute to the many others we currently have in production.
Why work for PitStop
PitStop is an independent audio production team running multiple worldwide audio projects. We encourage collaborative working and sharing of skill sets
We have a friendly and supportive team, who have built up a culture of really looking out for each other
This position gives the opportunity to widen and vary both your creative and technical audio skills, along with adding a great range of titles to your CV
Your path is unlimited! The possibilities to advance and further your career are a certainty if you are passionate about game audio and love being part of a creative and technical team
You will have the freedom and security to fulfil your true potential
Our location is ideal for either city or country lifestyles
Responsibilities
Create and implement a wide range of high quality sound effects, conceptualising and deciding on sound direction, both aesthetic and technical requirements
Understand the needs of the project to plan and execute high quality sound design throughout development
Be the driving force on the project – Utilising your experience to guide and inspire other members of the audio team 
Expertly describe technical behaviour and problems when communicating with external code/design/animation teams
Problem solve and devise creative solutions to the complex challenges which can arise within interactive audio
Mix and balance all types of media (linear  / individual assets / in game) to a high standard
Profiling and performance optimisation
Bug fixing
What Skills Do We Need
Essential
An in-depth understanding of multiple commercial or proprietary game engines and audio middleware such as; Wwise, UE4, FMOD, etc…
Proven experience to implement a diverse range of sound effects to a high standard, while maintaining optimisation principles in complex game setups
Experience with designing and implementing bespoke interactive sound systems, and setting up multi-layered / dynamic music systems
Strong creative sound design skills, especially regarding use of spatial audio to set up realistic sounding audio in relation to the game
Experience in the games industry 
Confident communication and interpersonal skills with a positive team attitude
Expert knowledge of using industry standard DAWs, audio editing tools, and audio plugins such as; REAPER, Logic Pro, Pro Tools, etc…
Demonstrate a proven reliability with time management and an understanding of the importance of meeting self-set and externally set targets
Efficient organisational skills when planning and tracking the project / assets / status 
Broad knowledge of studio and field recording techniques
Visual scripting experience, such as creating and using blueprints
Desirable
Full cycle development experience in a lead role, with experience working on multiple AAA titles 
Working experience with current gen console development/production
BA/BSc degree in audio production/sound design or equivalent experience
Good proficiency in using Microsoft Excel and Google Docs
Experience in using version control software and VPNs
Good experience with creating linear audio, such as trailers, short movies, etc...
Company benefits
Generous holiday allowance
Relocation package
Bonus scheme
Finder's fee commission on projects 
Enhanced sick pay
Enhanced maternity and paternity leave 
Flexible working policy including
Personalised career development
Company funded social events / nights out / team meals
Regular games nights / tournaments
Access to acoustically treated recording studios / creative spaces
Entry to industry events
The successful candidate will receive a competitive salary depending on their skills and experience.
This position will be held at our studios in Dodworth, Barnsley. Please ensure you are willing to commute or relocate in order to attend the office.
How to apply
Please email your CV and a short covering letter to: jobs@pitstopproductions.co.uk
Please ensure the email subject is 'Sound Designer'.
We'd also love to hear your showreel, as detailed below:
Your showreel should be a short video showcasing amazing sound design that fit the visuals as well as examples of audio implementation using middleware.
Please use a mix of in-game and linear audio examples, good mixing skills, ensuring to show enthusiasm for interesting implementation ideas, with contextual descriptions of what you did for each example.
While an understanding of music is important to us, this position will not involve any composition work. Therefore, only provide music examples if you are showcasing real-time music systems.