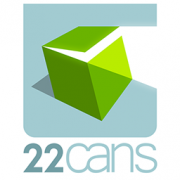 Senior Game Designer
22cans is an independent games development studio with a passion for making award winning, innovative and delightful games. We are a highly flexible team with a great track record made up of industry veterans, experienced devs and great new talent. We are looking for ambitious people who are eager to embrace a highly creative and explorative development environment and help us realise our vision and reach huge audiences around the world.
We are looking for a talented Senior Game Designer to join the team, working on an exciting and genre defining title. This is a role for a hands-on designer that enjoys focusing on the details, refining user experiences, balancing systems, and fine tuning features to create a truly first class game.
Come and join our team and make your mark on the journey to making the best possible games!
Role and Responsibilities:
User Experience refinement and enhancement.
Balancing of game systems and economies to achieve objectives.
Fine-tuning of progression systems to optimise pacing and reward.
Contributing to the design of new systems from ideation through to implementation.
Identifying opportunities to enhance the game with additional features or content.
Skills and Knowledge:
5+ years working in the games industry in design or relevant roles.
Experience working with economies in a resource management, RPG or game of relevant genre.
Good experience working with Unity 3D and able to work directly with data and components required to balance and refine systems.
A passion for creativity, innovative solutions and creating wonderful user experiences.
If this sounds like you send through your CV/Portfolio to jobs@22cans.com, we would love to hear from you!
22cans is an equal opportunities employer hoping to attract applications from diverse backgrounds. Recruitment selection is based on objective, job-related criteria and candidates will be chosen on their merits and abilities.