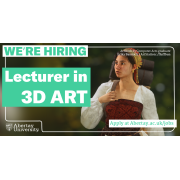 Lecturer in 3D Art
School of Design and Informatics
Lecturer (Grade 7- 8) in 3D Art
Full-Time (flexible working options available)
The School of Design and Informatics (SDI) at Abertay University in Dundee seeks to appoint a Lecturer in 3D Art. This new opportunity has arisen from our expanding international partnerships and significant investment in research and knowledge exchange.
The School of Design and Informatics consists of three divisions: the Division of Games Technology and Mathematics, the Division of Games and Arts and the Division of Cybersecurity and is the home of Abertay's undergraduate and postgraduate degree programmes in games, digital arts, cybersecurity and applied computer science. Abertay was the first university to offer degrees in Computer Games and Ethical Hacking, and continues to be recognised as an international leader in its fields. The School is designated the National Centre of Excellence in Computer Games Education, and has pioneered integrated cross-disciplinary practice-based learning through its 'workplace simulation' approach to teaching and learning. Additionally, the University has recently been recognised as an Academic Centre of Excellence in Cyber Security Education (Gold Award) by the National Cyber Security Centre. 
Academic staff in the Division of Games and Arts have pursued research on a diverse range of themes, including applied games, interactive design in the performing arts, experimental game jams, and game aesthetics.  Reporting to the Head of Division, you will provide high-quality, research-informed teaching across all of our creative programmes, with a particular focus on delivering specialist content within our Computer Arts and Game Design and Production degrees, and conduct research in your field that contributes to Abertay's strategic interests within the creative industries and digital arts. There will be ample opportunity for staff development and RKE opportunities based on SDI's current portfolio of RKE activity including InGAME (£11.5M with the Universities of Dundee and St Andrews), CyberQuarter (£18M) and the School's Emergent Technology Centre. In addition, the School has a number of established international partnerships with universities, colleges and media and technology companies across Europe, North America and the Far East.
We are particularly keen to attract applicants with research, teaching and/or professional skills and creative experience in the following areas:
3D asset production pipelines and design workflows
Environment, vehicle and prop asset modelling
Modular and bespoke design processes
Character and creature asset modelling
3D Sculpting and high-poly workflows
Technical design, terrain generation and scripting
Materials and lighting workflows
Game engine preparation and asset presentation
The successful candidate will have the opportunity to propose and undertake creative projects within the Emergent Technology Centre. Launched in 2019, this facility comprises a series of interconnected specialist labs and studios dedicated to research in games development, visual design, usability, and XR and immersive experiences.
If you believe you have the skills and experience for this exciting and challenging role, please submit your application through our online recruitment system, which can be found at https://www.abertay.ac.uk/discover/work-here/jobs/
Please note that we will only accept applications through our online recruitment system.
Committed to Equal Opportunities
Abertay University is a Scottish Registered Charity,
No: SC016040