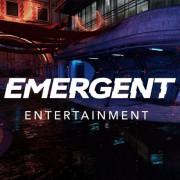 (Peaky Blinders) Social Media / Community Manager - Gaming Entertainment
Reporting to the Senior Product Manager, you will be responsible for the creation and execution of the social and community marketing strategy for all titles going forward, released under Emergent Entertainment & the Maze Theory brand. In this position, you will not only support the success of all future releases, but also nurture a growing community of players, help recognise and cultivate brand advocates and evangelists, and continually develop the studio's ongoing brand and reputation.
You will actively reach out to groups and key influencers to help promote our games and experiences.
Responsibilities:
Strategise, plan and execute the social and community marketing strategy for the Peaky Blinders release, with an overall objective of increasing title awareness, growing player communities, increasing social following, developing brand reputation, and boosting both digital and physical sales

Define the our games and studio's ongoing social strategy, while also identifying and acting on new opportunities to develop said program

Run our existing social channels, while also recognising emerging channels that we should adopt for continued success

Outreach – target key interest groups, communities and influencers and reach out to them to arrange partnerships, competitions and offers to help them amplify the noise around our games

Act as the voice of the players, ensuring the community feel heard by reporting feedback to relevant parties, and liaising with the development team when required

Manage the company's online conversation, monitoring and responding to relevant forums and online reviews (in particular, Steam)

Capitalise on global events and media trends in a timely and effective manner, to take advantage of opportunities to develop social media engagement and brand awareness

Define an individual tone for each of our titles, writing, coordinating and editing content for social media, the company website and other comms

Define and create key assets for use on social media, liaising with developers and third party agencies as required

Monitor, analyse and report to key stakeholders on all social activity, utilising relevant listening tools. Leverage insights to improve existing and future social and community strategies

Build, maintain, and grow mutually beneficial long-term relationships with key members of the community and leverage those relationships in support of new product releases

Develop and build relationships with influencers, brand ambassadors & IP partnerships

Work with the Data / Business intelligence team to ensure KPIs are tracked and achieved
Qualifications
Desirables:
Has a natural flair for social media and the written word

Has a passion for video games, web3 and VR

Is a natural people person, with the ability to form relationships with a wide variety of individuals

Has two years or more experience as a successful social and community manager within the video game industry

Has planned and executed successful social media campaigns

Is proficient in the production of high quality social assets, such as GIFs and screenshots

Is self-driven and motivated, with the ability to govern their own time and workload

Is a fluent English speaker