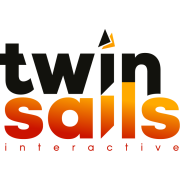 Senior Community Developer
Twin Sails Interactive is an international video game publisher, part of the Asmodee Group, an Embracer company since March 2022. Based in Boulogne-Billancourt, our team of passionate professionals partners with developers to help drive their titles to success. Originally known as a specialist in digital board-game adaptations under the name Asmodee Digital, Twin Sails expanded its reach into original, creative titles aimed at a wide audience on PC and consoles.
Following the release of the acclaimed Gloomhaven adaptation and the well-received early access launches of Ember Knights and Survival: Fountain of Youth, Twin Sails is publishing indie gems such as Wantless, Innchanted, News Tower, and Amberial Dreams, with more yet to be announced.
We offer you the opportunity to join a team of talented industry experts fully invested in developing and promoting outstanding indie games across both PC and console. If you are motivated by the chance to innovate, create, and work in a friendly and welcoming work environment alongside colleagues who love video games as much as you, don't hesitate to contact us to discuss further.
Twin Sails Interactive is seeking an experienced Senior Community Developer to reinforce our existing team of experts. As a Senior Community Developer, you will manage our online communities, engage with our players, develop innovative content, grow our brands on social media, and create and manage assets and communications.
Responsibilities:
Manage our social media accounts and create exciting content to increase brand awareness and loyalty, and improve player retention and engagement.
Develop and implement community management strategies that will increase the engagement and retention of our players.
Create and manage the creation of necessary assets, such as graphics, videos, or other visual materials, using tools such as Adobe Photoshop and Premiere.
Analyse and report on community feedback, trends, and issues and collaborate with internal teams to ensure community feedback is incorporated into product development.
Stay up-to-date with the latest social media trends and technologies, and use this knowledge to recommend and implement new strategies to engage with our players on emerging platforms.
Requirements:
At least 5 years of experience in community development and social media management in the video game industry.
Strong knowledge of current and emerging social media platforms and marketing techniques.
Excellent communication and interpersonal skills.
Proficiency in asset creation tools (2D creatives and video) is a plus.
Fluent in English, both oral and written.
Ability to work in a fast-paced, team-oriented environment.
Why you will love working with us:
Real responsibilities and the opportunity to learn and progress quickly.
Video games: an exciting universe with a team of passionate individuals.
A company culture focused on efficiency, direct and smooth interpersonal relationships, and opportunities to propose ideas and see them implemented.
Positive working environment, driven by the inclusion of and value in all its employees.
Our values: Driven by Passion / Create, Innovate, Adapt / Commit to Excel / Cooperation as a Way of Action / Human and Professional Kindness.
An inclusive atmosphere: our company is open to all profiles and backgrounds.
A home-office policy allowing for 2 days of remote work per week.
If you have a passion for video games and a proven track record of building and managing successful online communities, we encourage you to apply for this exciting opportunity.