Game Studio Sound Designer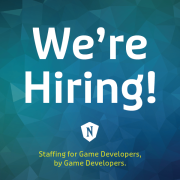 Game Studio Sound Designer
We are looking for an experienced game Sound Designer to join an established remote studio with a passion for creating deceptively strategic video games.
If you are passionate about creating high-quality audio that enhances the overall gaming experience for our players, that's what we're looking for. The people you'll work with are dedicated to providing a healthy and fun work environment that is diverse, inclusive, and puts employees first. We believe in providing our team with the necessary tools and resources to succeed and grow professionally.
Requirements:
3+ years of professional sound design experience in the video game industry.
Proficient in industry-standard audio software such as Pro Tools, Reaper, Wwise and/or FMOD.
Experience with audio implementation in Unity.
A deep passion for video games and the role of audio in creating immersive experiences.
An excellent verbal and written communicator, ability to work collaboratively with a team.
Nice to Have: Experience working with remote or distributed teams.
If you have a dog, they want to meet them too.
 
Responsibilities:
Work with the game design team to create an audio vision for each game.
Develop, implement, and mix all aspects of audio, including sound effects, music, and voice over.
Collaborate with designers, artists, and engineers to ensure that the audio elements of our games are integrated seamlessly and enhance the player experience.
Clearly communicate updates and concerns to the Lead Designer and/or Chief Creative Officer.
Translate high-level audio concepts into detailed, quantifiable specifications that guide the development process.
Routinely collect feedback from user-testing, and design team to refine and iterate on our studio audio approach.
Benefits
Flexible working hours.
Medical benefits.
Defined vacation and compensatory leave.
A defined training and career growth plan.
Annual retreats.